From now on, we mostly get caught up in the 'before Christmas' scenarios.
And that means with typical January disruptions, next thing you know it is February and little has been done to ensure next year will be a strategically planned success.
With the horrendous onslaught of digital disruption to almost every business model, those who are not on-the-money with their strategies will rapidly fall behind.
Think I am a scaremonger? Nup. I am a realist when it comes to identifying current disruptive trends and what needs to be done to deal with the challenges!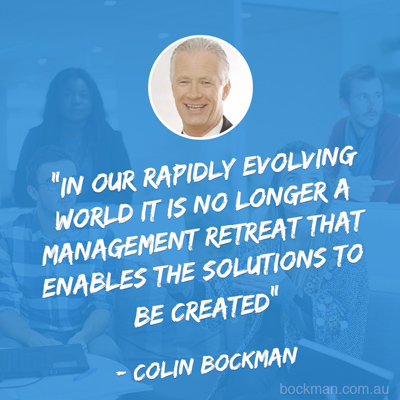 NOW is the time to begin the planning of clever components for next year, combined with the execution models which may include an early New Year kick-off structure to see you staying ahead of the pack.
It is all about the good ol' 5 Ps
Planning Prevents Poor Performance ( well, I left out the 3rd one, which is an adjective )
And the key to the planning is to recognise that in our rapidly evolving world it is no longer a Management Retreat that enables the solutions to be created. There needs to be a tapping-in to the neck-top-computers of representatives from every level of the business model. The nuances are too finite to be seen or observed by Management, as the clever strategies need to come from a combo all who 'touch' the business model.
So what to do ?
3 Stages
1) Have a half day independently Facilitated Session to raise all possible challenges for the coming year invite a wide cross section of the team to be involved
It is essential that this be a rapid in-put session with no holds barred. It needs to appear to be almost non structured, yet if Facilitated by an innovative person the session can be 'weighted' to delve into the deepest concerns and importantly the perceived solutions. It has been my experience over more than 30 years of running events of this nature, that an amazing amount of valuable information and even more importantly perceptions are discovered.
Although this process is the forerunner to the next step, it's under-the-radar benefit is that the team head off to the Christmas New Year break knowing that their concerns are known and will be dealt with in the new year a great feeling of security over what can be a questioning time for most, during these unstable times.
2) Evaluate exactly what was raised and why. This is not as straight forward as it might appear on the surface. The fall-out from the Session is dependant largely on just how much of what comes up during the interaction. However, typically the old 80/20 rule applies, that is 80% was expected by Management, but it is the 20% that most often contains the gems for staying ahead of the pack. So to clearly qualify what needs to be dealt with by whom and by when, and to what degree, requires the Independent Facilitator again.
Let me explain why that is. Innovation comes from people being able to share their inner thinking and those who are close to the real-world have thoughts every day and experience frustrations which they tend to simply fob off as 'work related stuff'. These can be easily misinterpreted by Management as they are too close to the day-to-day running of the business model and can even consider the concerns as their team grumbling about things instead of getting on with the business.
The underlying purpose of the exercise is to find ways to breakout from the usual business model and create fresh approaches, that is the ONLY way to lead the pack
3) Deciding on the Program for the new year and deciding on how it will be released at the earliest possible date. This could be as innovative as getting everyone together and creating some skunk-works team with tight time lines to research and develop the outline for an app which will break new ground ( digital disruption) to forming a Sales Process to re-jig the go-to-market strategy.
These examples are of course speculative, which is exactly how it should be as I write this blog, as if they are known prior to the above steps, being Facilitated, then one could consider that they are certainly not ground breaking competitive-edge strategies
Foot note: most who read this to this point ( by the way, thanks for that) will be considering " do I have to do this sort of thing. Is it really necessary?" and my answer to that is simply…
YES if you want to be to be the leader and create your future through innovation via the most valuable asset of your business. AND have a vibrant team early in the new year
Or
NO, if you want to play in the sandpit within the rules that others have set and be in a position where you are the one reacting to their initiatives
Over and out I trust you will MAKE the next year a winner by implementing the above !!